Your Questions Answered

What are your qualifications?    
Scott Rhoades has been a Humanist Celebrant of the Church of Spiritual Humanism, licensed to practice official marriage ceremonies since 2011. In 2014 he was endorsed as a Humanist Celebrant by the Humanist Society, which was founded in 1939 and has provided Celebrant Certification to members of the American Humanist Association since 1991. His certification gives him the full rights and responsibilities of ordained clergy and authorizes him to attend to the pastoral and ceremonial needs of Humanists and all others seeking these service in any state in the United States. He is also the president of a non-profit group, helps organize a yearly state conference, supports LGBT rights, and has extensive public speaking experience.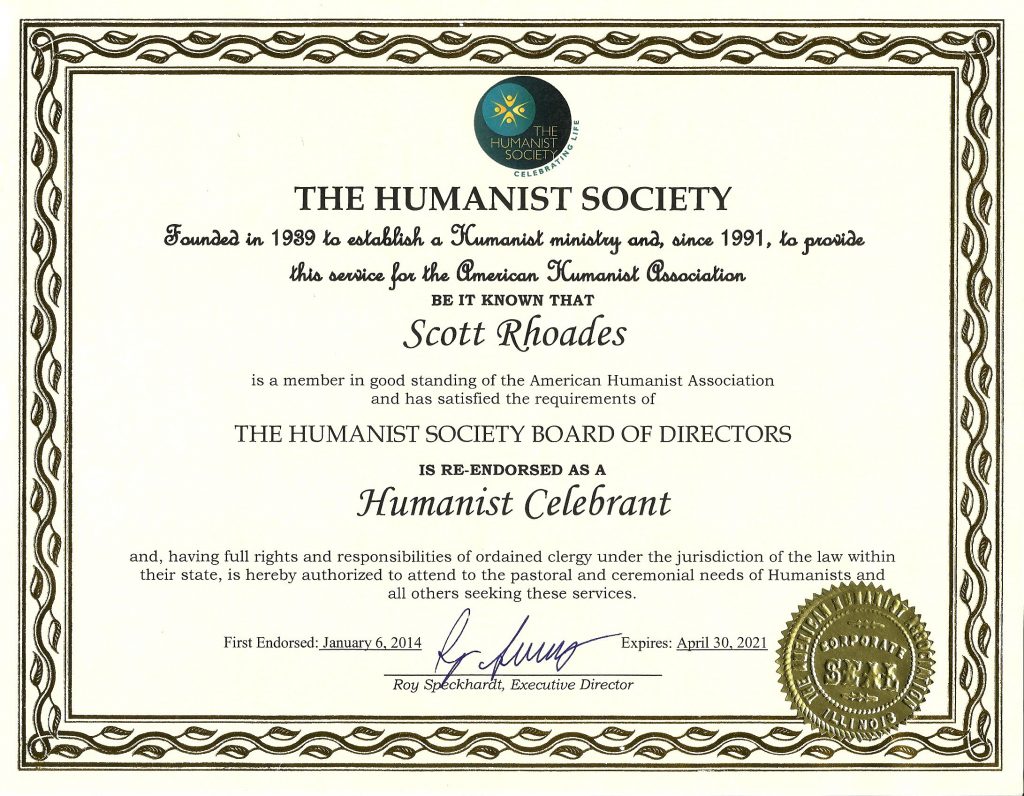 Are you associated with a religious group?
The Humanist Society, though fully recognized as a legal ordination body, has no affiliation with any faith or religious creed. Our goal is to provide a ceremony that is all about the couple, rather than any ideology or religious tradition. We understand, however, that some family members may come from a religious tradition and, we endeavor to be respectful of this when providing a service that is non-religious.
What is Secular Humanism?
Secular Humanism is a philosophy for the here and now. Humanists regard human values as making sense only in the context of human life rather than in the promise of a supposed life after death.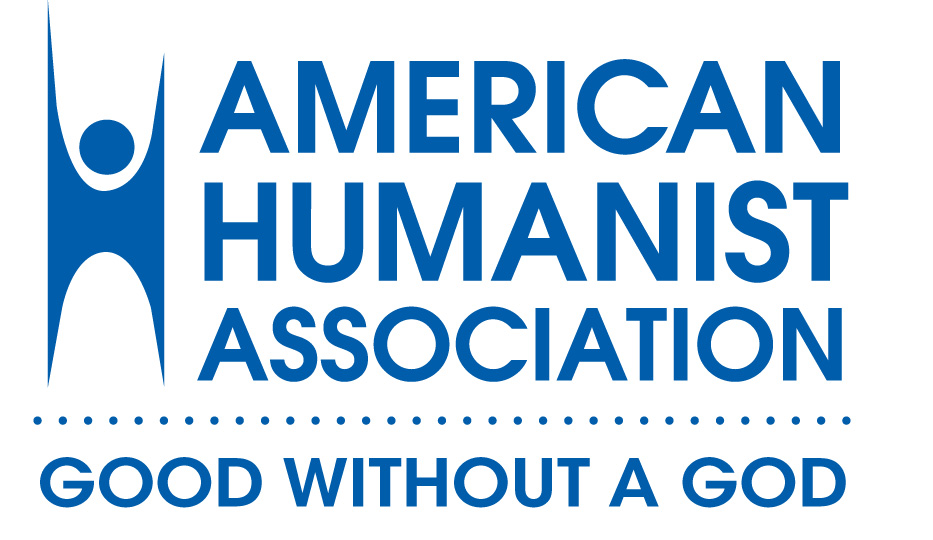 Humanism is also a philosophy of compassion. Humanist ethics is solely concerned with meeting human needs and answering human problems-for both the individual and society-and devotes no attention to the satisfaction of the desires of supposed theological entities.
Humanism is, in sum, a philosophy for those in love with life. Humanists take responsibility for their own lives and relish the adventure of being part of new discoveries, seeking new knowledge, exploring new options. Instead of finding solace in prefabricated answers to the great questions of life, humanists enjoy the open-endedness of a quest and the freedom of discovery that this entails.
You can find more information on Humanism here.
What is a Humanist / Secular / Non-religious wedding?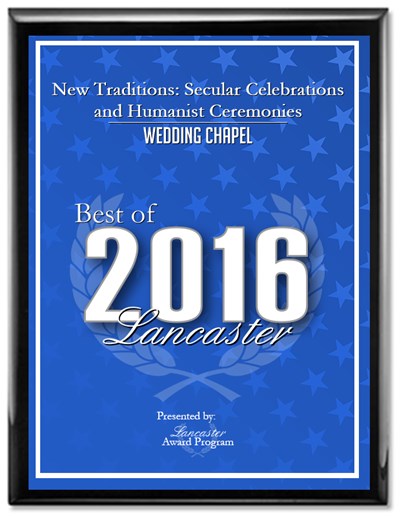 A Humanist or non-religious wedding is a ceremony completely devoted to the couple, as opposed to any religious requirements or tradition. In working with you to prepare your ceremony we first ask for a history of your journey together and your own desires for your special day. Your wedding is yours to build in full and we feel privileged to help you make every aspect tuned to the people you are and the couple and family you will become.
Do you offer LGBT services?
Absolutely! I am a strong advocate for LGBT rights and would love to officiate at your same-sex wedding. Any services I offer are also available to all U.S. citizens no matter who you love. New Traditions simply does not discriminate against anyone.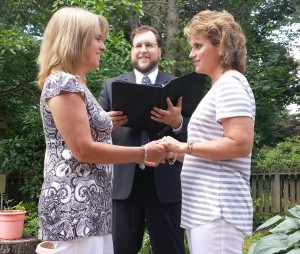 My first same-sex ceremony!
We want you to perform our ceremony.  How do we engage your services?
The first thing is to give Scott a call at 570.205.3887 or e-mail him at ScottR@NewTraditionsCelebrations.com. When you contact him, he will work with you to answer any questions and concerns you have, as well as helping to fulfill your ideas and dreams about your special day. To aid you we can provide you with a wedding ceremony workbook, which we will send you for free via email and without obligation as soon as you contact us for a consultation. Why not call us today and see how we can help you take the next step forward?
What types of wedding ceremonies do you perform?
We work with you to build the ceremony you most desire. Our personalized ceremonies are focused on the couple and their love for one another. We strongly welcome all ideas you have for your service, but can also suggest many elements we have seen work successfully from our experience. We are happy to incorporate any texts or traditions from your family or background. Our goal is to offer you the widest of possibilities and to help you build a unique and personal day.
Do offer discounted services for those on a budget?
Yes we do. Details on our Discounted Wedding Ceremony and Elopement Wedding Ceremony options can be found on our pricing page. 
What do you wear during the ceremony?
Every ceremony is crafted to your requirements. Although it is standard to wear a formal suit we are able to tailor tie colors, and more, to your plans. I make a great effort that my color choices do not clash with your wedding colors. In the event that you require Scott to wear a tuxedo, you will be responsible for any associated rental fees. If you wish to have a theme wedding, we will do our best to achieve whatever look you would like. As with every aspect of our service we are eager to adapt to your needs and desires for your special day.
How long is the ceremony?
The ceremony is yours to build and we take pride in working with you to craft an occasion of any length and style you desire. The average simple secular ceremony lasts 20-30 minutes. Obviously the number of readings and music you choose to include will affect the length of your ceremony. Our costs remain the same regardless of ceremony length.
Do you have recommendations for potential outdoor wedding venues?
The Lancaster area is a highly desired wedding destination due to it's rustic charm and historic buildings. We have many wonderful public green spaces but also many other outdoor venues. Riverdale Manor is located here in Lancaster and overlooks the banks of the Conestoga River. They offer the use of 6 riverfront acres, the ballroom, atrium, farmhouse, decks and terraces for the entire length of your event. There is also the old world charm of the historic 1741 Meeting House or the hillside Amphitheater at the Ephrata Cloister. The Cameron Estate Inn, just west of Mt. Joy, offers many venues such as their Carriage House Gazebo, Donegal Spring Garden, Old Stone Bridge, Stone Steps, the Mansion Front Lawn, or Mansion steps as well as offering reception venues in the Mansion and Carriage House. These are only a few of the many outdoor venues in the Lancaster Area. Any wedding venue will likely be booked well in advance, so be sure to plan ahead!
We want to get married in a church, but are not members anywhere.  Are there churches that will rent out their facilities?
It is becoming increasingly less likely that a church will allow you to use their space if you are not a member. Exceptions to this are the Unitarian Universalist Church of Lancaster and some Quaker Churches. If you are looking for a venue with some historic charm, the Lancaster area has many alternative locations that would qualify.
What geographical areas do you cover?
Although we are based in Lancaster County in Pennsylvania, we are also happy to travel worldwide if requested by you and travel and lodging expenses are met. .
Do you require premarital counseling?
No. We are not licensed counselors but if you have questions or concerns about your ceremony or vows we are very happy to offer advice from our experience. We assume and hope that you have given the fullest consideration to your decision and that this will take you with confidence into you special day and beyond.
Is a rehearsal necessary?
I recommend a rehearsal so everyone involved in the actual ceremony is aware of their role and where to be and when. I am very happy to attend your rehearsal and help guide you through the ceremony process, but if you have someone coordinating for you it is not necessary that the officiant attend as we are fully experienced in our usual roles. Not having your celebrant at the rehearsal can be a way to save costs, but a full rehearsal can ensure your day goes as smoothly as possible. If you have a large wedding party or many people involved in the ceremony, offering songs or readings, I highly suggest that you have a rehearsal.
Is it proper to provide a gratuity to the officiant?
We believe we have priced our services at a good value, but if you feel that we have performed beyond your expectations or gone above and beyond our duty, we are happy to accept a gratuity.
Will we get to read and approve the written ceremony before our wedding day?
Absolutely! If there are things you would like to change about the ceremony I have personally crafted for you, we will work together until you are completely satisfied.
What other types of services do you provide?
In addition to weddings we are able to perform any ceremony marking important moments in life and community. We offer end-of-life ceremonies that truly celebrate the importance and memories of your loved one. We also offer ceremonies such as baby-namings to welcome new life to the world in a personal and unique way. Beyond ceremonies which celebrate the milestones of life we can also help mark community occasions such as formal addresses to military events, building dedications, or other events.
How do you officiate Memorial Services?
A New Traditions Memorial Service is one of celebrating the life of the deceased. I ask family and friends to share fond memories and funny stories to show how the one they lost has touched their lives in various ways. As an Officiant, I facilitate this kind of service rather than to talk much about the life of someone who I have most likely never met. At past services I have attended, it bothered me when officiants took advantage of such situations to preach or pretend a familiarity with the deceased that the family knows is not true.
Do you insert your beliefs into the Memorial Services you officiate?
Absolutely not. I am fully cognizant of the fact that most of the guests attending any of the ceremonies I officiate are going to be of mixed religious backgrounds and that it is not my place to insert my opinions or beliefs into any service I offer. The words I offer are religiously neutral and serve only to bookend the sharing the memories of loved ones and to shape a structure in which this can happen.

If you have any questions not covered here please don't hesitate to contact me at 570.205.3887 or Scottr@NewTraditionsCelebrations.com and I will be happy to answer them for you.